Hello New Members and Followers!
Whew! MOST of my kids are back in school and I am feeling bit on top of things again! I am so excited to get back to some normalcy after the holidays!
If you were one of the people that joined Young Living and myself this year – CONGRATULATIONS! I am here to provide you with the BEST start and continued success in your health journey!
Where to begin, you ask?! Let's chat STARTER KIT!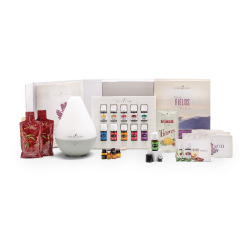 If you haven't opened your Kit yet…
Read the brochures! Young Living provides excellent brochures to get you started with essential oils!
SMELL each oil! Open each oil to see which one you want to try first, either by diffuser or topically.
Gather your supplies. Do you need roller bottles or a carrier oil for topical application? Do you know how to dilute essential oils appropriately? Here are my directions!
Try the samples! Curious about the Young Living Cleaner?! Give it a go! Looking for nutritional support? Ningxia to the rescue!
Learn how to use your Virtual Office. You are a member now, but you aren't sure how to navigate reordering. Practice in your Virtual Office to familiarize yourself with Young Living's products and the location of those you'd like to order. Do you still need help in this area? Contact me!
How do I use the oils in my Kit?
Have you yet to read about the essential oils in your Starter Kit? No worries! Here's a general run-down!
🌱Citrus Fresh – This oil is your sunshine in a bottle! From Young Living, "What's better than Lemon, Grapefruit, and Orange essential oils? These oils are combined to create the inspiring and unique Citrus Fresh essential oil blend. Along with Tangerine, Mandarin, and Spearmint, Citrus Fresh is a member favorite that's invigorating and bright, with a hint of minty coolness. This product is a perfect replacement for chemical-based home fresheners. Simply add a couple drops to your household diffuser and enjoy the uplifting and refreshing scent. You can also combine it with lotions and moisturizers to add a boost to your nightly skin care routine to support the appearance of healthy-looking skin."
🌱Copaiba – Inflammation got you down? This driver oil supports all sorts of bodily systems! From Young Living, "Known for its gentle, woodsy aroma, Copaiba essential oil is a product of steam distilling the gum resin tapped from the Brazilian Copaifera reticulata tree. Copaiba oil has high levels of beta-caryophyllene and a uniquely sweet aromatic profile, which helps create a relaxing atmosphere when it is diffused or applied topically. Copaiba is a great addition to your daily routine and skin care. Add it to a neutral moisturizer to utilize its natural fragrance and moisturizing properties. It can also be applied following activity for a comforting cooldown."
🌱DiGize – Think digestive support! From Young Living, "DiGize essential oil blend combines Tarragon, Ginger, Peppermint, Juniper, Lemongrass, Anise, and Patchouli oils for a spicy, exotic aromatic blend. It also contains Fennel essential oil, which people have used for a broad range of purposes since the ancient Egyptians. To enjoy the rich, calming scent of DiGize, diffuse it in your home, office, or car. You can also apply it directly to your chest, wrists, and abdomen to enjoy its scent wherever you go."
🌱Frankincense – From Young Living, "Frankincense essential oil has a broad range of uses, from enhancing spiritual and meditative practice to use in beauty routines. Frankincense has an earthy, uplifting aroma that's perfect for grounding and spiritual connectedness. Create a safe and comforting environment by diffusing this oil's empowering aroma, particularly when you are seeking purpose or engaged in prayer or meditation. In addition to elevated spiritual experiences, Frankincense can help you maintain the appearance of radiant skin."
🌱Lavender – From Young Living, "Lavender essential oil has a scent that's a wonderful blend of fresh, floral, clean, and calm. It's this dynamic aroma that has made the plant a classic for perfumes, soaps, fresheners, and beauty products. As one of our most popular products, Lavender is a great beginner oil and a must for every home. Lavender essential oil isn't just a favorite because of its classic scent—it's also highly versatile. From skin care products to relaxing routines, this oil can infuse and enhance many areas of your life."
🌱Lemon – From Young Living, "With its bright and joyful aroma, Lemon essential oil benefits skin and hair as much as its aroma enhances your environment. This best-selling oil can be used in a variety of ways: Mix it with your cleaning products, use it during your nighttime skin care routine, or add a drop to your conditioner for a great scent. This oil is a key ingredient in many hair and skin care products, Thieves® cleaning products, and essential oil blends such as Thieves®, Citrus Fresh™, Clarity™, Joy™ and Harmony™. Because citrus oil can cause photosensitivity, avoid applying Lemon to exposed skin before spending time outside."
🌱Panaway – From Young Living, "With Wintergreen, Helichrysum, Clove, and Peppermint essential oils, PanAway essential oil blend has a refreshing, invigorating aroma and a cooling sensation when applied to the skin. PanAway continues to be one of Young Living's most popular products and is a must-have for every home. Apply this synergistic blend after exercise or anytime for its soothing, stimulating aroma."
🌱Peppermint – From Young Living, "Peppermint essential oil provides a familiar, recognizable scent, but Peppermint is so much more than just a nostalgic, fresh aroma. This oil can be diffused to create a stimulating, focused atmosphere for daily tasks. You can also apply it topically to create a cool, tingling sensation on the skin, which can be very soothing after hard physical activity. We recommend using Peppermint essential oil aromatically or topically anytime you want to add a pleasant variety to your routine!"
🌱Raven – From Young Living, "Raven essential oil blend is a cool, refreshing combination of Ravintsara, Peppermint, Eucalyptus Radiata, Lemon, and Wintergreen essential oils. A chilly, minty blend with sweet undertones, Raven creates a cooling sensation and provides a comforting aroma when applied topically to the chest and throat. Like an effervescent breeze through a grove of eucalyptus trees, Raven provides a refreshing aromatic experience when diffused or inhaled directly. The naturally occurring constituents eucalyptol, menthol, and methyl salicylate provide an invigorating and empowering experience, particularly before or after a workout or when winding down for the evening."
🌱Stress Away – Your tropical vacation is in this bottle right here! From Young Living, "Stress Away essential oil blend contains a unique combination of Lime essential oil and Vanilla extract. It's this distinct mix of Vanilla and Lime that gives Stress Away its unique and pleasant aroma, among other benefits. Stress Away also includes Copaiba, which has a history of beneficial properties in topical application; Lavender, with its refreshing and calming scent; and Cedarwood, which features the powerful plant constituent cedrol. These ingredients are expertly blended with the exotic scent of Ocotea, a unique Ecuadorian-sourced essential oil."
🌱Thieves – From Young Living, "Thieves essential oil blend is a powerful combination of Clove, Lemon, Cinnamon Bark, Eucalyptus Radiata, and Rosemary essential oils that fills any space with a rich, spicy aroma. As one of our most popular products, it's no wonder that Thieves is included in so many of our home cleaning and personal care products. Thieves blend is your go-to for an invigoratingly clean and spicy scent that smells more like fall baking than harsh cleaning formulas."
***
➡️Still overwhelmed?!⬅️
Try my 7-DAY Topical and Aromatic OIL USE CHALLENGE!
➡️DAY 1: Wake-up Call ⏰
Add 3 drops of Lemon or Citrus Fresh essential oil and 3 drops of Peppermint essential oil to your new diffuser while getting ready in the morning.
➡️Day 2: Stink Be Gone 🚫
Buy a spray bottle. Fill it a quarter-full of witch hazel and three-quarters full of water. Add 10-15 drops of Lavender or Citrus Fresh. Shake. Spray on furniture, pillows, or anything needing to be refreshed. Do you need extra STINK support? Try Purification essential oil!
➡️Day 3: Toxin detoxing
Are you working on eliminating toxins from your home? Start by getting rid of your hormone-disrupting soaps!
Using foaming soap dispensers, add castile soap to the soap line on the bottle, then fill the dispenser with the recommended amount of water. Add to the mixture 10-15 drops of an essential oil of your choice! I like Peppermint and Thieves in mine! Shake!
➡️Day 4: Fitness Goals 💪 (for adults-see children's dilution)
Do you have New Year's fitness goals and need muscular relief for those sore muscles? In a 10 ml roller bottle, add 6 drops of Panaway essential oil. Fill with a carrier oil (I like jojoba oil). For enhanced support, add Copaiba or Peppermint essential oils.
➡️Day 5: Skin refresh (for adults-see children's dilution)
Winter skin got you down? In a 10 ml roller bottle, add 5 drops of Frankincense, 5 drops of Lavender, and 2 drops of Copaiba. Finish filling the bottle with witch hazel. Wash your face and then apply the mixture! (You may also add 2 drops of Purification to this if it is available to you.)
➡️Day 6: Health Boost (for adults-see children's dilution)
Are you feeling drained after the holidays?
Boost your immunity by adding 10 drops of Thieves to a 10 ml roller bottle bottle. Complete the fill with your favorite carrier oil. Roll on the feet bottoms for 7 days. Thieves may also be diffused!
Is your GI system bogged down after numerous Christmas celebrations? Support your gastrointestinal system with 6 drops of Digize and 6 drops of Peppermint in a 10 ml roller bottle. Add your favorite carrier oil. Roll on the stomach area as needed.
Respiratory system struggling? Add 6 drops of Raven to a 10 ml roller bottle. Add your favorite carrier oil. Rub on your back or chest. Raven may also be diffused!
➡️Day 7: Get your CLEAN on
Use your Thieves Cleaner sample as directed to sanitize your house this New Year! Do you need more detailed directions? Click HERE!
***
I hope this was helpful to those of you starting to use essential oils, and especially you who have jumped all in with Young Living this year! I am super elated to have new members join me and our online informational group!
If you do not have a distributor, you are really missing out! My group is provided guidance by a Natural Health Practitioner alongside almost 1,900 other knowledgeable members! You can't get much more support than that! And joining me will automatically include you in our health group!
Not interested in Group or my support after joining? Start on your own at www.youngliving.com; go to Member Resources!
Here's to this Year's HEALTHY start! Happy 2019, Friends! 🎉
❤ Jess
Disclaimer! The information (and products offered) in this post are not meant to diagnose, treat, prevent, or cure any disease, but is only what I, a Young Living distributor, have chosen to do to take charge of my family's personal health. My statements have not been evaluated by the FDA. Please seek medical attention before using these products if you are pregnant, nursing, have a medical condition, or if you are on any medications.
Please use the information provided on this page in conjunction with your own research and health care provider's advice. This information is meant for educational purposes only, not to determine your specific health care plan.
*I may receive compensation through purchases made from the Young Living link!